Milano Fashion Week: Gigi Hadid si è dovuta difendere con le sue sole forze dalle molestie di Vitalii Sediuk – una sorta di Gabriele Paolini della moda – mentre, con sua sorella Bella, lasciava la sfilata di Max Mara.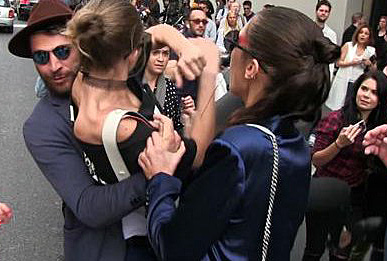 Il fatto è avvenuto in pochi secondi nonostante la presenza di guardie del corpo: Gigi e Bella cammivano in direzione dell'auto che le aspettava.

Vitalii Sediuk ha seguito Gigi Hadid e l'ha afferrata per la vita sollevandola da terra (e mettendole anche la mano sul sedere).
Immediata l'autodifesa della modella che – dicendogliele di ogni – senza nemmeno girarsi gli ha sferrato una gran gomitata in faccia e con l'aiuto di Bella è riuscita a fargli allentare la presa e a divincolarsi.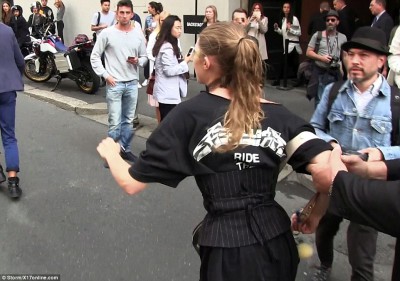 Una guardia del corpo ha dovuto afferrare a sua volta Gigi Hadid per un braccio e condurla prudentemente alla macchina visto che la modella sembrava intenzionata ad inseguire Sediuk.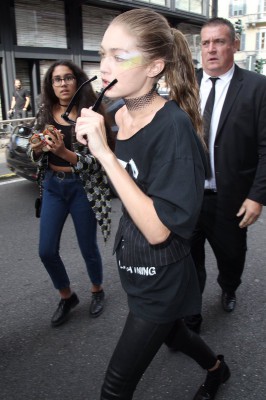 Gigi Hadid è apparsa molto turbata (e furiosa) per le molestie subite ed è probabile che non si farà più vedere in giro da sola per Milano come ha fatto ieri.
La cosa assurda è che su Twitter si è dovuta anche giustificare davanti a chi le ha dato torto sostenendo che aveva malmenato una sorta di "poveraccio indifeso".

"I'm a human being", "I had every right to defend myself" ha scritto la modella aggiungendo "How dare that idiot thinks he has the right to man-handle a complete stranger".
Se poi il "poveraccio indifeso" in questione è noto nell'ambiente della moda come molestatore compulsivo…

Wikipedia definisce Vitalii Sediuk un "media personality", uno "psychotic stalker, danger to society", snocciolando incidenti analoghi avvenuti con Madonna, Kim Kardashian, Adele, Leo Di Caprio, Brad Pitt e diversi altri VIP.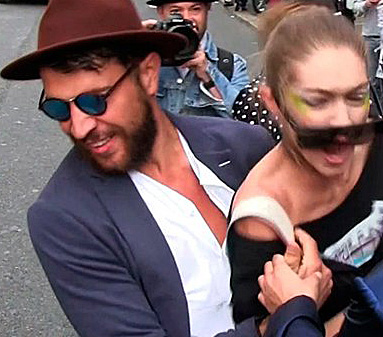 Negli States è stato processato e condannato a non farsi vedere in prossimità di eventi e red carpet. Qui in Europa gira indisturbato.

GUARDA il VIDEO
scegli un altro post
BLOG