Ai British Fashion Awards 2015 abbiamo visto Anna Wintour consegnare l'Outstanding Achievement Award al Kaiser della moda: Karl Lagerfeld.
La direttrice di Vogue America è apparsa affabile, elegante, addirittura emozionata, e ha dedicato all'amico stylist (e artista, fotografo, regista, filantropo e altro ancora come ha sottolineato la Wintour) – con cui ha condiviso "many extraordinary moments" – un discorso affettuoso e lusinghiero.

Sembra che, a luci spente, abbia anche dichiarato: "I often though that in my next life I'd like to come back as Choupette, Karl's extremely beautiful and bourgeois cat who has two maids, a chef, a personal hairdresser and many diamond necklaces".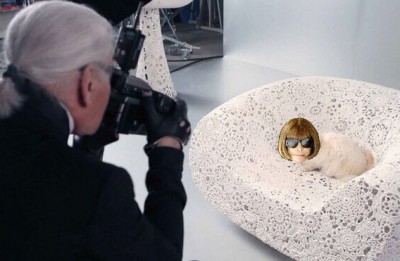 Cioè: "Penso che nella prossima vita vorrei reincarnarmi in Choupette, la meravigliosa gatta di Karl, che ha due governanti, uno chef, un parrucchiere personale e molti collarini di diamanti".
Ma come: Choupette, una tenera, smorfiosa gattina (con quasi 49mila follower solo su Twitter…) è riuscita a incrinare la corazza della Iron Lady della moda internazionale? Un po' di fusa hanno fatto breccia nel suo cuore più di sontuosi regali e ipocrite lusinghe ?
Vedremo presto Anna Wintour retwittare foto di gattini?

Se è così, in occasione delle Milano Fashion Week 2016 suggerirei ai nostri Stylist di farle trovare, a bordo passerella, una cesta contenente un ronfante, irresistibile micetto che potrebbe intenerire Lady Wintour al punto da farla innamorare dell'Italia!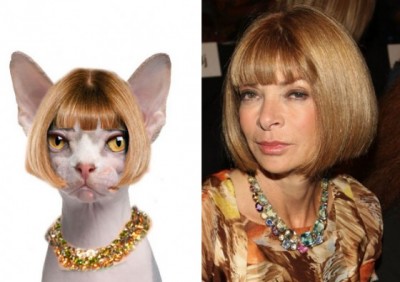 ti potrebbe interessare anche: Il valzer dei creativi