Gigi Hadid batte la modella di Victoria's Secret, Devon Windsor, al Masterchef Celebrity Showdown cucinando un prelibato… hamburger!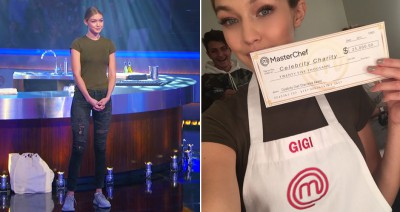 "Delicious and juicy" è stato giudicato dal mitico chef Gordon Ramsay il panino assemblato dalle manine d'oro della supermodel, a base di polpetta di carne bovina (cotta alla perfezione, of course!) cipolla e patatine.
"Quando mi sono trasferita a New York, provavo ogni settimana un hamburger diverso per decidere quale preferivo", ha spiegato Gigi mostrando trionfante l'assegno da 25mila dollari ricevuto come premio per la sua vittoria.

La modella ha devoluto la cifra alla Global Lyme Alliance, per aiutare la ricerca sulla malattia di Lyme, una patologia rara trasmessa con il morso delle zecche che può colpire diversi organi se non affrontata tempestivamente.
"Pochi conoscono la malattia di Lyme e il rischio che si corre", spiega la Hadid rivelando quindi che sua madre, Yolanda Foster, suo fratello e sua sorella ne sono affetti.
scegli un post!