Live music, tradizione e streetwear: elementi comuni a due collezioni diverse come quelle portate sulle passerelle di Parigi menswear fallW2016 da Kenzo e Balmain.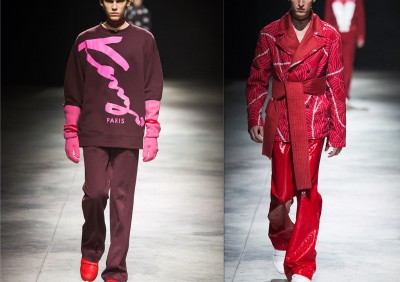 Lo show di Kenzo si apre con un imponente ensemble di coristi in camice rosso che cantano al centro della scena: intorno sfilano i modelli che richiamano in parte elementi della tradizione giapponese come il kimono, il sole nascente, il rosso dei fiori di ciliegio. E in parte simbologie Flower Power care a Kenzo Takada, di cui è stata anche riprodotta la firma autografa sulle magliette.

L'ispirazione per questo ibrido arriva dai viaggi in Giappone effettuati da Humberto Leon e Carol Lim:
"Abbiamo analizzato le sfaccettature della società giapponese, il cibo, la lingua, l'architettura e soprattutto la capacità della gente di vivere il futuro rispettando il passato".
Il tutto unificato dalla musica: "Ci ha colpito il rapporto fra i cantanti e i loro fans: la nostra collezione è un'ode ai fans di idoli passati e presenti, alla loro coinvolgente energia positiva".
Cambio di scena da Balmain dove un'orchestra suona All of the lights , Lost in the World e Love Lockdown di Kanye West e sfilano sontuose divise di tempi andati, con marsine e giubbe in velluto, damasco, broccato e pelle con pantaloni da cavallerizzo infilati in high boot.
E' un tripudio di mostrine e bottoni dorati, frange, alamari, pietre luccicanti.
Olivier Rousteing celebra l'aristocrazia modernizzata da hip hop e streetwear con eleganza e fantasia e straordinaria attenzione ad accessori e dettagli.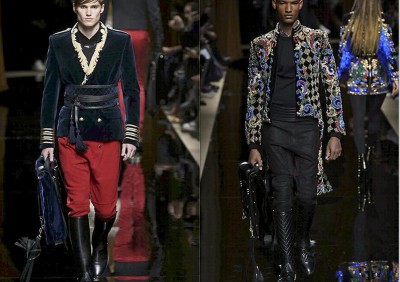 scegli un post!