Chanel porta al Grand Palais di Parigi una collezione di Haute Couture autocelebrativa, con una sfumatura di Sol Levante che fa discretamente capolino nelle acconciature, nelle scarpe con zeppa di sughero (un richiamo agli zori?), in alcuni abiti e nell'ambientazione: un giardino zen che incornicia la doll's house (in legno ecocompatibile) di Karl Lagerfeld.
Kendall Jenner, Gigi e Bella Hadid, Mariacarla Boscono, Lindsey Wixson queste e altre sono le bambole che indossano i modelli – protagonisti assoluti della passerella – che riproducono con sfarzosa dovizia di particolari tutti gli stilemi della maison, in un'allure Anni Venti che le fa sembrare come uscite da una stampa d'epoca.
La sartorialità esibita e portata all'estremo in creazioni uniche per la perfezione e il lusso.
Il tutto per celebrare lei, Gabrielle (just a simple dressmaker… no?), e l'Haute Couture che nulla di più delle parole dello stesso Karl Lagerfeld può definire:
"Haute Couture is the extreme luxury. It is perfection with a unique personality. Haute Couture is a maximum symbol of artisan's refinement and beauty. This is the beauty and the magic of it."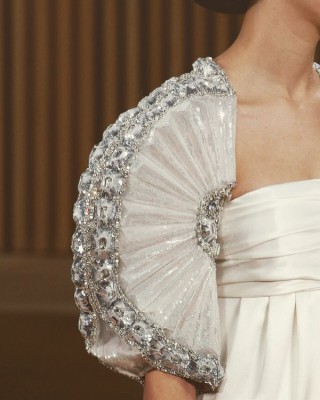 scegli un post!