La seconda puntata del Festival di Sanremo 2016 sarebbe trascorsa come la prima e come la terza, la quarta, la quinta… se non avesse fatto la sua comparsa – su una sedia a rotelle spinta da Carlo Conti – il maestro Ezio Bosso, ospite speciale della serata.

Ezio Bosso ha portato sul palcoscenico dell'Ariston la bellezza della sua forza, del suo sorriso, delle sue parole, del gesto, della musica, della cultura, dell'esempio.
"La musica è una grande magia", ha detto. E ha incantato tutti.
"La musica siamo noi, è una fortuna che condividiamo. Ci insegna la cosa più importante che esista, che è: Ascoltare…". E il pubblico lo ha ascoltato.

"Posso fare una cosa che mi fa stare bene? – ha domandato a Carlo Conti – Quando inizio un concerto dico "ciao" che è una parola bellissima!".
E il pubblico lo ha salutato.
Ha suonato Following the bird, tratto dal suo doppio cd The 12th Room.
E' arrivata la standing ovation e il brano è balzato al primo posto su iTunes.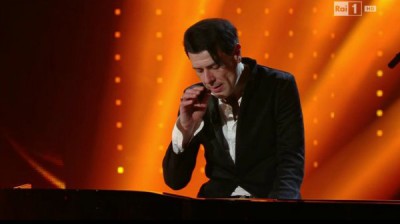 Ezio Bosso ha interpretato per il pubblico dieci minuti di vero amore, immediatamente corrisposto.
E' sceso giù dal palco lasciando dietro di sé qualche lacrima e una gran voglia di rivederlo.
Da domani i suoi impegni continueranno a portarlo in giro per il mondo, dove è famoso da sempre.
Grazie a Carlo Conti, adesso è famoso anche a casa sua.
Ad Aprile tornerà in Italia per una serie di recital.
Direi che è un'occasione da non perdere!
scegli un post!