Allo Staple Centre di Los Angeles di scena il 58° Grammy Awards.

Red carpet e palcoscenico popolati da bei nomi dell'universo musicale, e così si fa notare per la sua assenza Rihanna, che dovrebbe concludere lo spettacolo con Kiss is better, ma rinuncia a causa di una bronchite.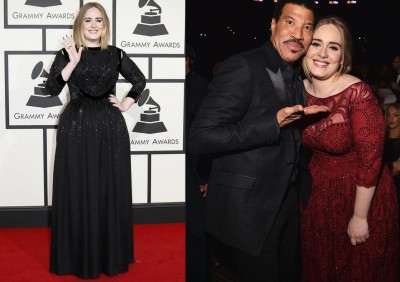 Si fa notare in negativo anche Adele.
Bardata con un abito rosso di Givenchy Haute Couture che fa rimpangere il look sanremese di Deborah Iurato, Adele canta male e stecca più di una volta. Dando la colpa a dei problemi tecnici.

Dopo il Golden Globe e il Superbowl, Lady Gaga non perde questa terza occasione in un mese di farsi apprezzare come artista completa e sensibile.
Piace il suo omaggio a David Bowie al fianco del grande Nile Rodgers.
Notevole l'abitino bluette firmato Marc Jacobs esibito sul red carpet!

Bluette anche per la presentatrice Selena Gomez, in uno sfavillante abito di Calvin Klein Collection e scarpe di Giuseppe Zanotti, il preferito da diverse star della serata: un Grammy speciale per lui?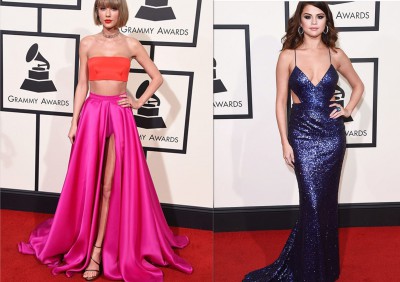 Tre Grammy a Taylor Swift, bellissima in Atelier Versace, che ne approfitta per proseguire la sua partita a tennis con Kanye West.
Eravamo rimasti a Mr. Kardashian che, qualche giorno fa a Yeezy Season 3, rappava in Famous (con Rihanna): "I feel like me and Taylor Swift might still have sex/Why? I made that bitch famous".

Si rievoca il "fattaccio" degli MTV Awards del 2009, quando West strappò di mano il microfono alla Swift che stava ringraziando per il premio ricevuto, gridando da vero lord che lo avrebbe meritato Beyoncé.
Un episodio, secondo il rapper, a cui si deve la fama di Taylor Swift.

E dal palco dei Grammy 2016 la bionda Taylor gli riponde: "I want to say to all the young women out there, there are going to be people along the way who are going to try to (…) take credit for your accomplishments or your fame. But if you just focus on the work and you don't let those people sidetrack you, someday (…) you'll realize it was you, and the people who love you to put you there.".

Niente nomi, ma il riferimento a Kanye West è evidente.
scegli un post!