Gli stilisti made in Italy fanno razzia di Oscar e monopolizzano il red carpet della blasonata manifestazione.

A cominciare da Leonardo DiCaprio e Alejandro Gonzalez Inarritu, miglior attore e miglior regista per The Revenant, vestiti rispettivamente da Armani e PRADA.
Per Leonardo DiCaprio si tratta del primo Oscar dopo cinque nomination.
Inarritu guadagna invece il secondo Oscar consecutivo in due anni.
Da dire che la premiata ditta DiCaprio/Inarritu quest'anno si era già portata a casa il Grammy Awards e i Bafta: insomma non c'è due senza tre!

Brie Larson in un vaporoso abito bluette firmato Gucci vince l'Oscar come miglior attrice per Room, sbaragliando avversarie del livello di Cate Blanchett, bellissima sul red carpet in Armani Privé turchese.

Il grande Ennio Morricone, in tuxedo Dolce e Gabbana, dopo il Grammy Awards e la stella assegnatagli sulla Walk of Fame nei giorni scorsi, vince l'Oscar per la migliore colonna sonora con il film The Hateful 8 di Quentin Tarantino.
Nel 2007 aveva già ricevuto un più che meritato Oscar alla carriera.
Un Oscar/modiamo per la disinvoltura lo diamo a Jacob Tremblay, impeccabilmente griffato Armani, che a nove anni domina già il red carpet come fosse un attore scafato!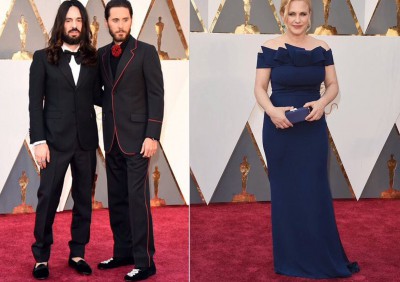 Sul red carpet non solo attori ma anche stilisti: ecco Alessandro di Michele, direttore creativo di Gucci, in posa con Jared Leto (in Gucci dalla testa ai piedi, of course!).
A Patricia Arquette, elegantissima in abito blu di Marina Rinaldi, diamo uno speciale Oscar/modiamo curvy!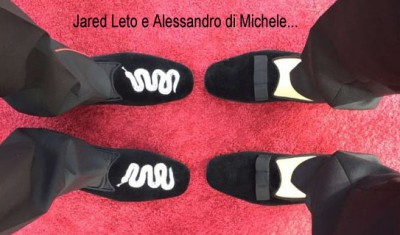 scegli un post!